Team Insights: Gundula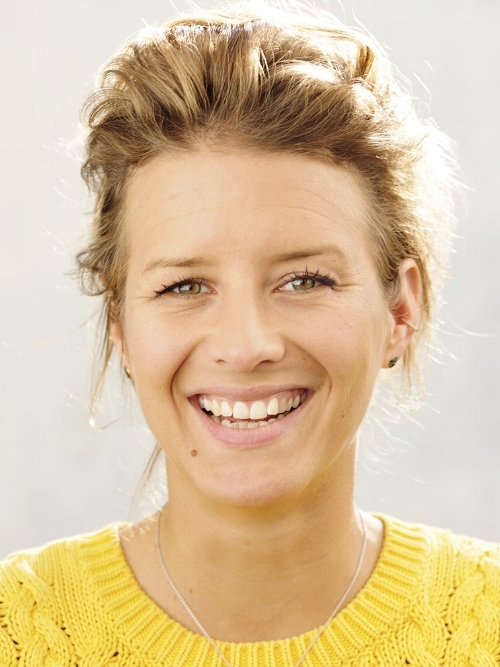 BECYCLE founder and CEO Gundula is definitely a leader in the female future force! Inspired by her desert rides at Burning Man and LA's obsession with SoulCycle, Gundula created BECYCLE to bring boutique fitness to Berlin. Haven't met her yet? When she's not in meetings at MyGoodness, look for her working up a sweat in the RIDE room!
Fit-focused Qs:
What is your go-to breakfast on a busy morning? My mornings start around 6.30am. I try not to have my breakfast before 9am to give my digestive system a bit of a break. A Matcha latte and well hip protein pot from My Goodness gives me enough power until 2pm for lunch.
What's your best strategy to stay motivated? I get bored easily and love to just mix it up by training with different instructors and always surprising my body with a new workout routine. On days when I am tired and not in the mood to do anything, music is what gets me going. Sometimes when I don't have enough time or I am not near the studio, I stream online workouts on alomoves. I've recently learned how nice it is to stay active during travels. Still astonished that most hotels don't offer this option for their guests. A simple guide with the best drop in workout classes in town would do the job.
The best thing we can do for ourselves after a workout is... Refuel! Have a smoothie filled with protein and drink lots of water. Our trainer Alex Hipwell always preaches to eat within 30 minutes after a tough workout. It makes soo much sense!
Is there a special dietary regime you follow? What changes have you seen or felt since you have started it? Intermittent fasting has really helped me. I used to feel bloated and tired a lot and by giving my digestion system a longer break, it has helped me in keeping my weight and not feeling sluggish.
What are your top three exercises to do at home? Best pose to do at home before getting ready to go to bed is to put a cushion under your sacrum and then stretch the legs and arms up straight. It's also great to do after a long flight or busy day on your feet. You can literally feel how energy is flowing back through your body, especially when combined with deep inhales and exhales.
What are your tips to have energy all day? A good night sleep and spending a couple of moments to just relax and breathe each day. I usually get all my energy out of a good workout. Whenever I start the day with a Ride I can feel the benefits of it all day. My concentration is better and I don't experience the afternoon slump.
What's your favourite motivational quote? It's an oldie, but I still like it - "Strong is the new skinny!" Getting stronger is really making a huge difference for me and makes me feel happier.
Quick-fire Qs
Favourite smoothie at My Goodness: Be Smooth – it's filled with goodness, and Maca Power Up for a post-workout refuel.
Best Restaurant in Berlin: Muret La Barba – best Italian in the neighbourhood
Best Bar in Berlin: Bar Milano
Best Place to dance in Berlin: I haven't been to a club in Berlin in years, but there is this place called BECYCLE and they do rides to great electronic music ;)
Favourite exercise: Cycling
Least favourite exercise: I don't like press ups or boat pose in yoga. Both exercises show me where my weak points are and sometimes I just like doing poses that confirm my strengths rather than showing me my weaknesses ;)
Silly Q's:
Dog, cats, neither? Definitely dogs, especially Labradors.
What's your personal theme song? I love Time by Pachanga boys. It reminds me of my one and only trip to Burning Man in 2014, where the idea of starting BECYCLE was born.
You're stranded on an island. What's the one thing you'd wish you had and why? My boyfriend Koko. It doesn't get boring with him!