Instructor Insights: Beatrice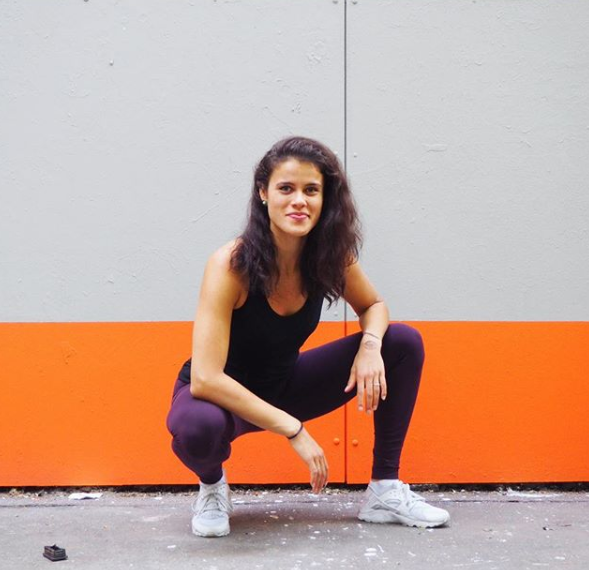 If you take one of Beatrice's RIDE classes, get ready for some fitness facts during a killer workout! As a fitness economist, instructor, and dancer she knows just how important a healthy lifestyle is and she loves to help people learn exactly how their body ticks.
Fit-focused Qs:
What is your go-to breakfast on a busy morning? My favorite breakfast is a fruity smoothie with two bananas, a lot of berries, oats, cacao, some protein powder, soy milk and a scoop of peanut butter.
What's your best strategy to stay motivated? I have a notebook where I write down my goals, thoughts, and everything else that comes to my mind. When reviewing my goals I get motivated. Additionally, I love watching motivational speeches on YouTube or listening to podcasts.
The best thing we can do for ourselves after a workout is... Refueling the body with a delicious healthy meal, relaxing, laughing, and enjoying ourselves.
Is there a special dietary regime you follow? What changes have you seen or felt since you have started it? My diet is mostly vegan/plant based. I feel like I have more power and energy with that kind of diet. Moreover, there are so many delicious meals that I got to know - for me it is the best way to refuel my body and eat healthy.
What are your top three exercises to do at home? I am very much into almost everything related to sports and health. When I am not cycling I love running, weight lifting, pole dancing, and practicing yoga. This year, yoga has been a tool for me to calm down, relax, and reduce stress. I love asanas like downward facing dog, happy baby, and the dancer's pose :-)
What are your tips to have energy all day? Start your day with a morning routine that sets you in a good mood and gets you motivated! Additionally, I find myself feeling more relaxed and having more energy when I know I prepared everything that I need for a day the night before - like packing my bag, doing meal prep etc.
What's your favourite motivational quote? "Be the change you wish to see in the world" - Mahatma Gandhi
Quick-fire Qs
Favourite smoothie at My Goodness: Maca power up - the one with peanuts and coffee in it!
Best Restaurant in Berlin: The Bowl!
Best Bar in Berlin: Chaos Theorie or Café Zeitlos
Best Place to dance in Berlin: Ritter Butzke
Favourite exercise: Squats, Plank and all its variations, and pull ups
Least favourite exercise: Burpees :D
Silly Qs:
Dog, cats, neither? Why? Both! A dog is like a best friend that always goes with you, but cats sometimes are just so funny - I know what I am talking about - I grew up with three cats ;-)
What's your personal theme song? Die Liebe - Mollono.Bass
You're stranded on an island. What's the one thing you'd wish you had and why? A suitcase with several inspirational books, sports clothes, lots of food, and a ticket saying I will be picked up after one week and brought back home :)